Red Ribbon Week will be next week - October 25-28. Encourage your students to dress up and participate! La Semana del Listón Rojo será la próxima semana, del 25 al 28 de octubre. ¡Anime a sus estudiantes a disfrazarse y participar!
The 8th grade will be taking a field trip to Salt Lake City on Thursday, October 21st. They will be exploring the Leonardo Museum and the Museum of Natural History of Utah. Masks are required in the buildings. Make sure your child brings a lunch, snacks, and a mask.

Parents- Due to inclement weather predicted, the 6th grade field trip to CSI this Thursday has been canceled.
Cross County was back in action today. 11 runners set new personal records! Awesome running by everyone today.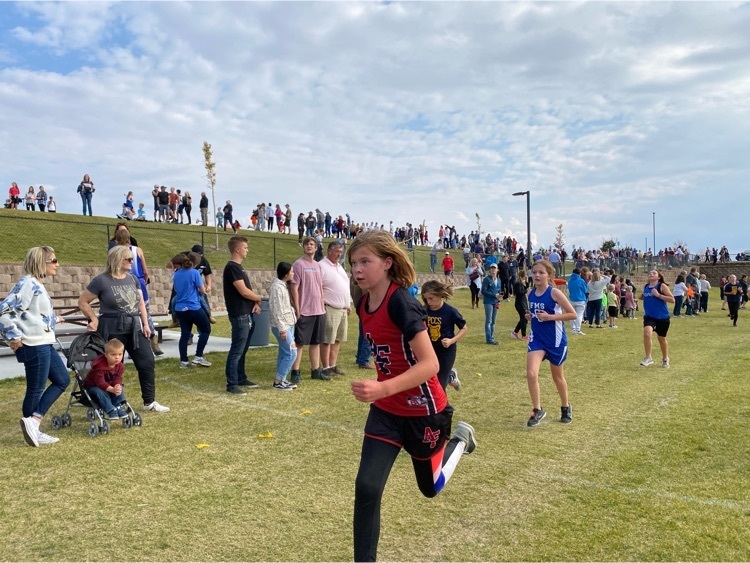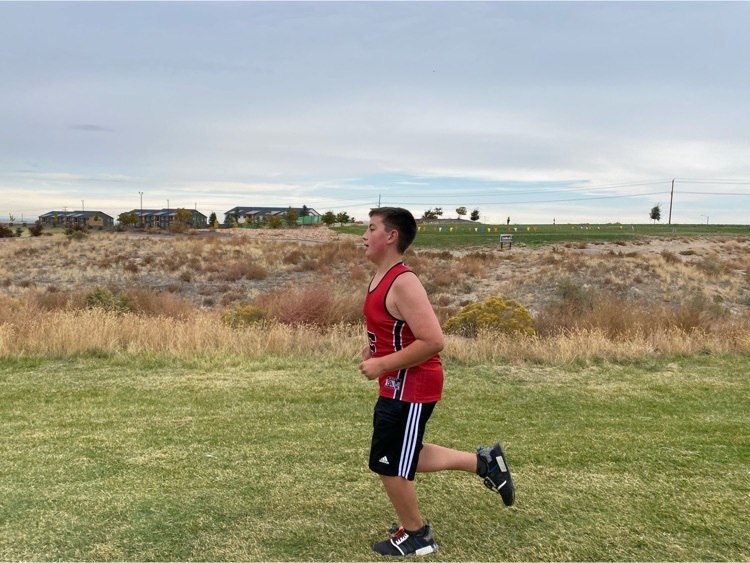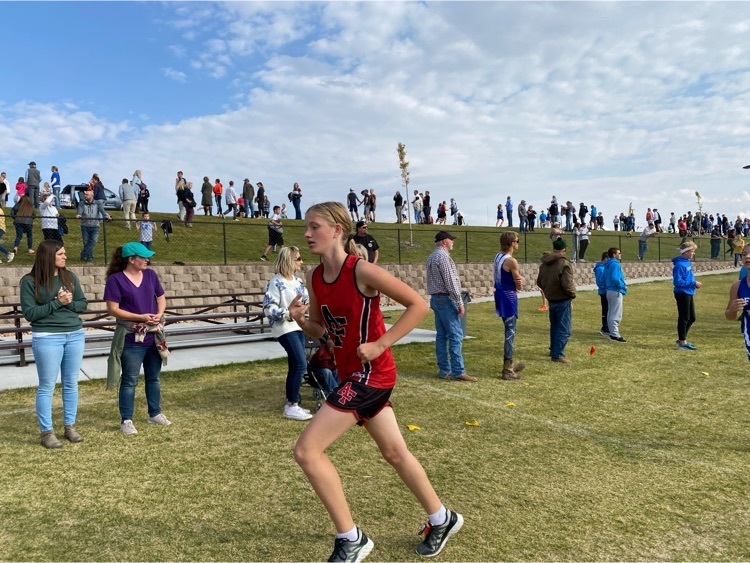 Coming up next week: 6th grade fieldtrip to the College of Southern Idaho on Thursday, October 14th. Parents are welcome to come. Please contact homeroom teachers for more information. Students will need to get a sack lunch that day either from the school or from home.
Cross Country was in action at the Snake River Invitational this week. 12 runners set new season best times and 10 set new personal records. Great job by all of the runners!!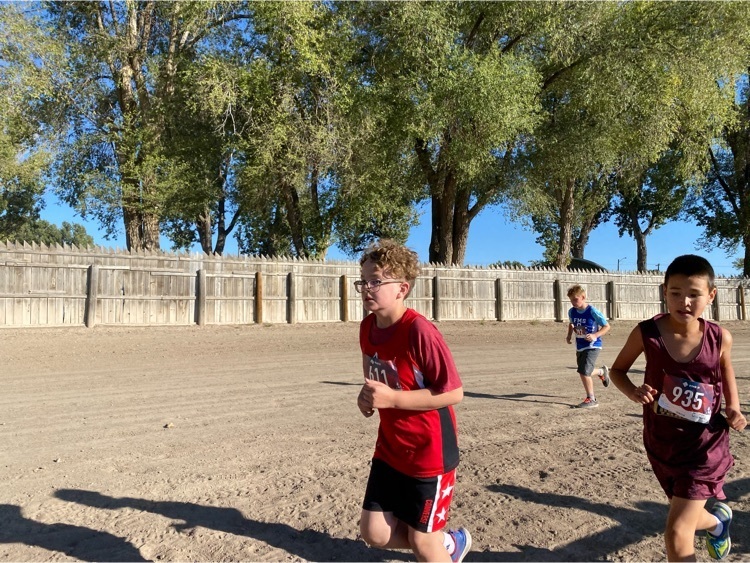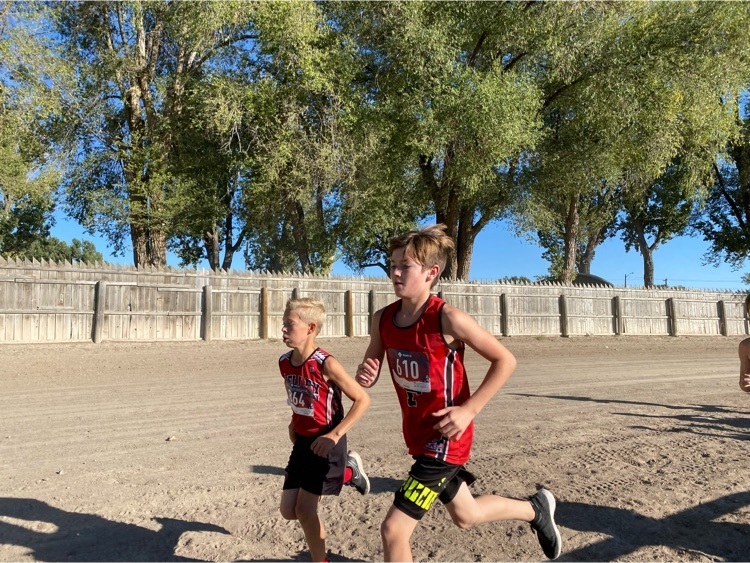 Just a reminder that School Picture Day is tomorrow, Thursday the 23rd, for WTMS. Don't forget to order pictures! You can also order online instead of sending the envelope with your child.

Mobile hotspots are still available through the district office. They are on a first come, first serve basis but are available for anybody with a student without internet access at home. Contact the district office for more information.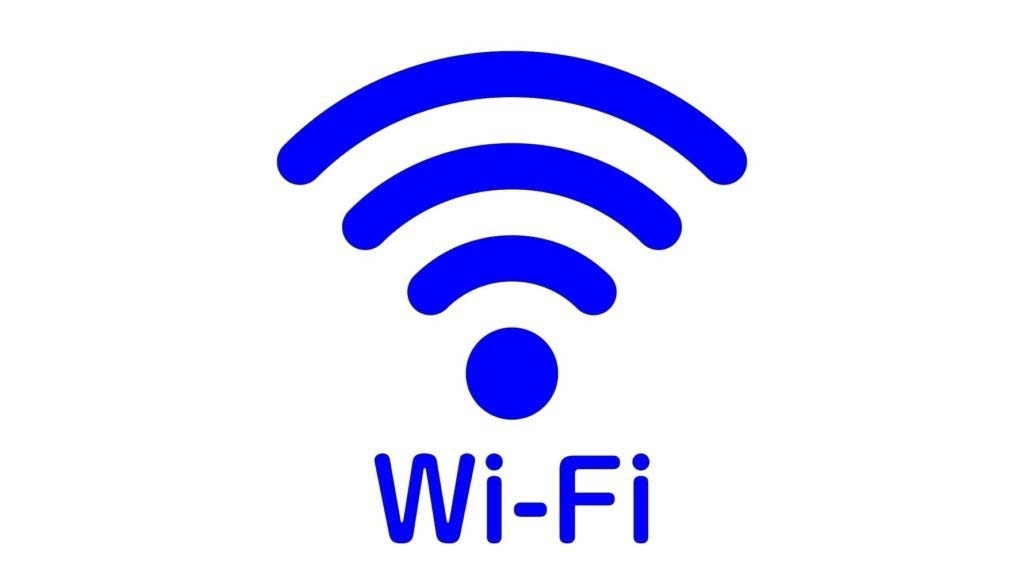 The annual 6th grade pet show will be held this Thursday, September 16th. See the flyer for more information.

The school district has openings for part-time cooks. If interested please contact Nikki at 208-226-5173 ext 103.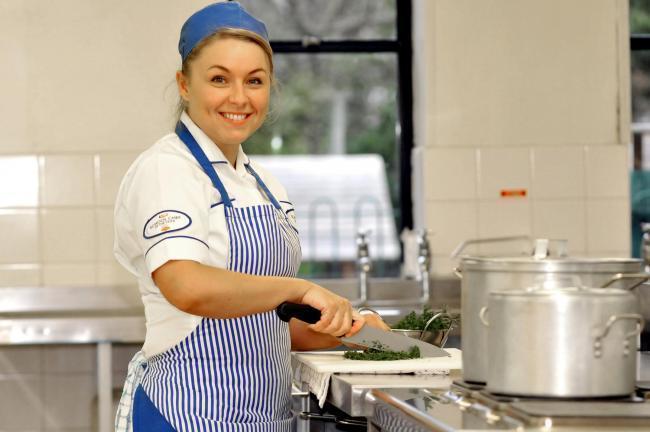 7th and 8th grade football had their first home games today. The teams (and the field) looked great!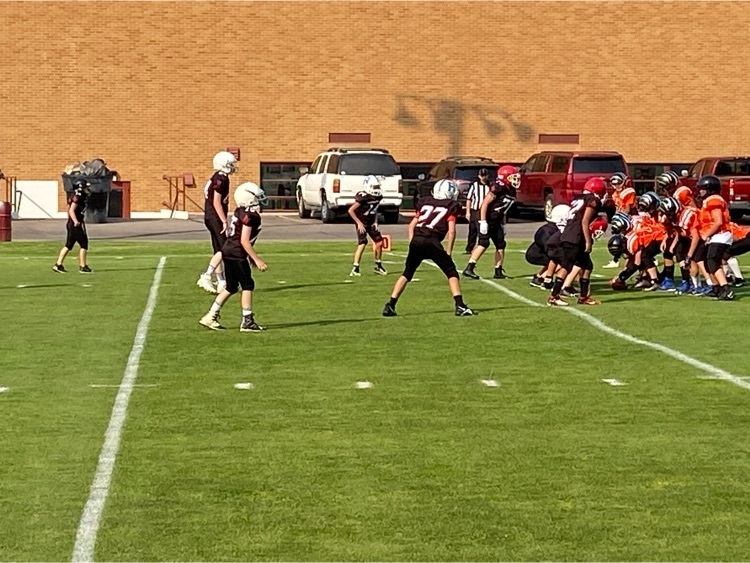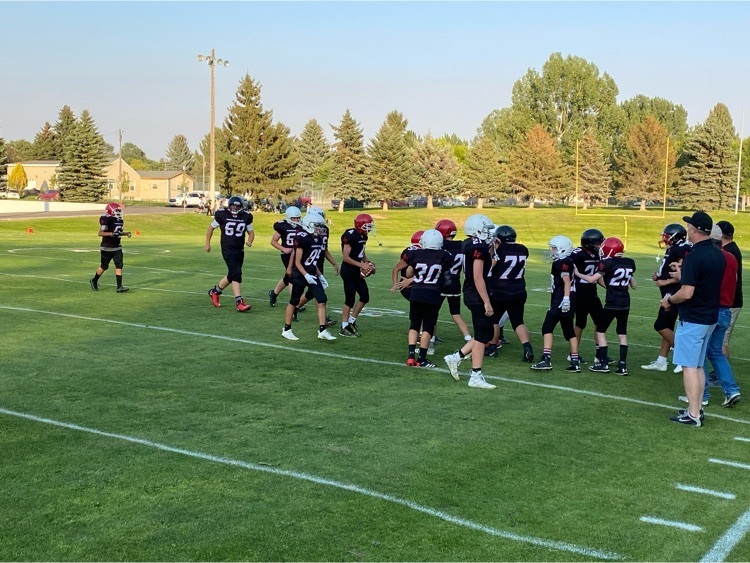 6th grade will be learning about Sept. 11 on its 20th anniversary September 9th. The 6th grade teachers would like to invite parents to share their experience either on video or with voice recordings. If you would like to share your experience please contact Ms. Baumgart. The annual 6th grade Pet Show will be held on Sept. 16. More information will be coming soon, however, feel free to contact your child 's homeroom teacher with questions.
2021 Cross Country Schedule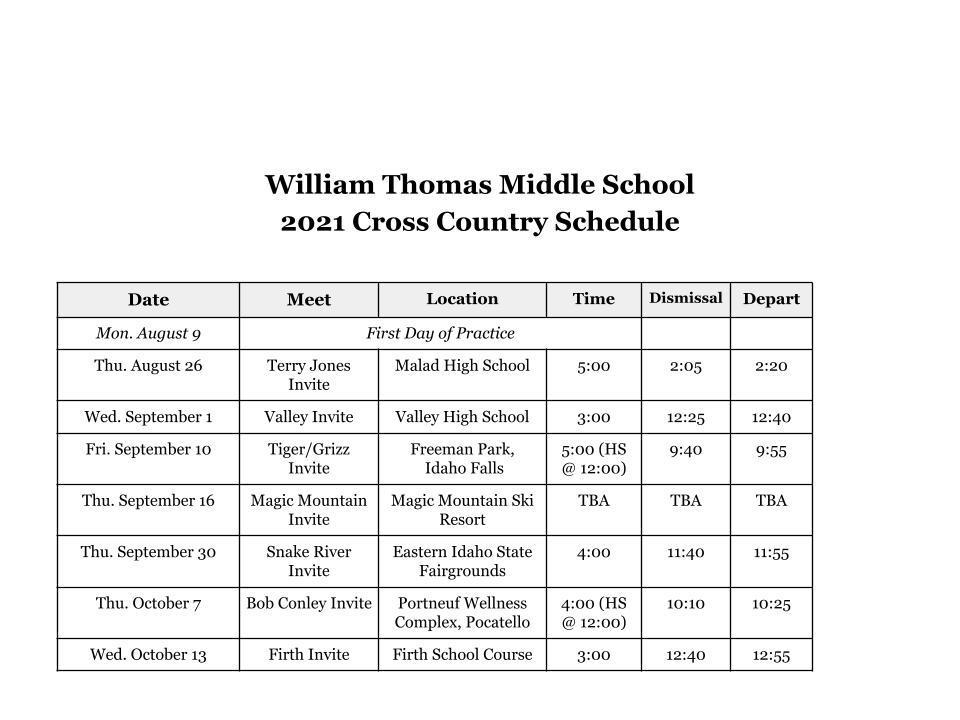 If you're wanting to catch a 6th grade football game, here is the schedule.
Don't Forget ♫Back to School Music Night♪ Please Plan on attending Music Night. Music Night is a night where we have a local music store come into the school and show the parents and students the options they have when looking for an guitar, ukuleles, band instruments and method books. The vendor will also have other supplies to sell that the student will need throughout the school year. Please refer to the Supplies section, to see what your student needs. This is where you can rent to own a guitar, ukulele, band instrument, get picks, capos, guitar book, strings, reeds, oil and more. Music night this year is scheduled for Friday, August 27th 2021, from 4:00 – 7:00 pm in the Band Room at William Thomas Middle School.

The school distrcit is currently lookiing for two new crossing guards. One at WTMS and one at JRSE.. If interested contact Nikki at 208-226-5173 ext 103. We also have openings for part-time teaching assistants and bus drivers.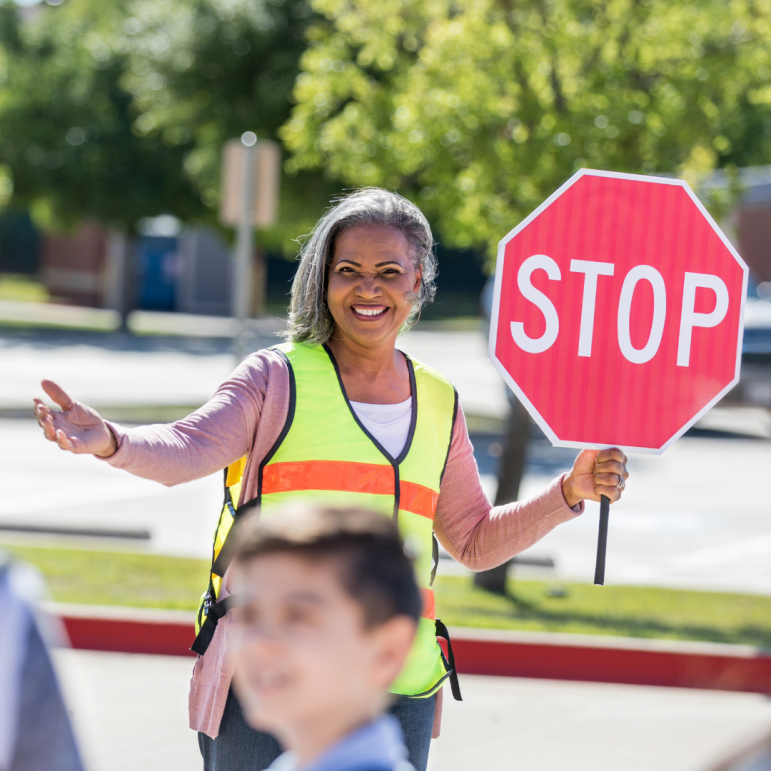 Fall sports practices have begun. Here are the 7th and 8th grade volleyball and football schedules. First games are next week. Come out and support the Beavers!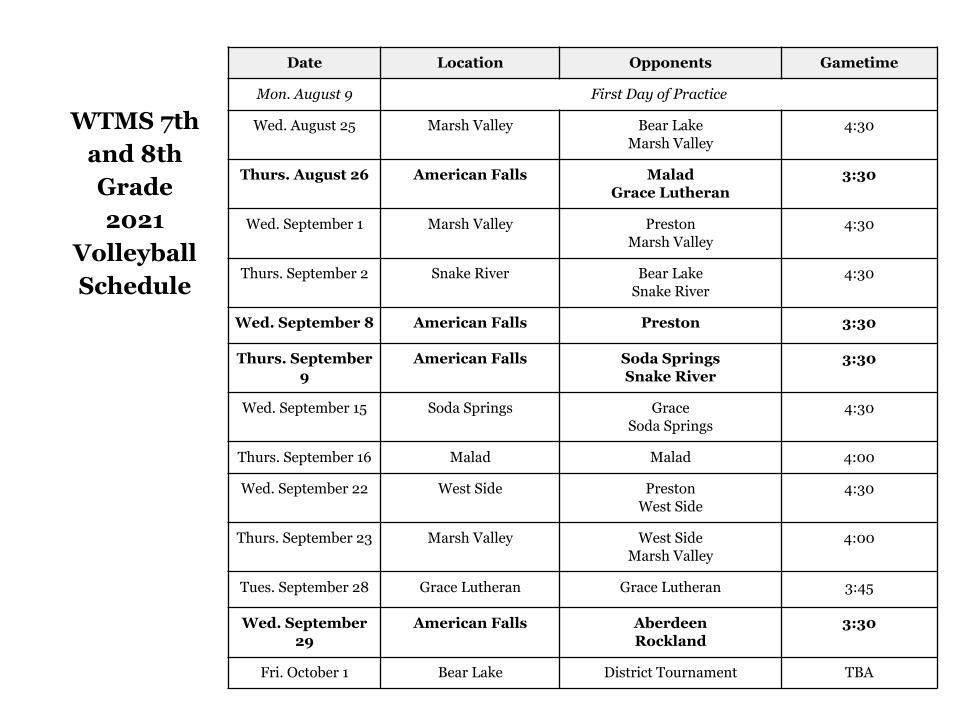 Back to school is almost here. Hope to see you all on Wednesday!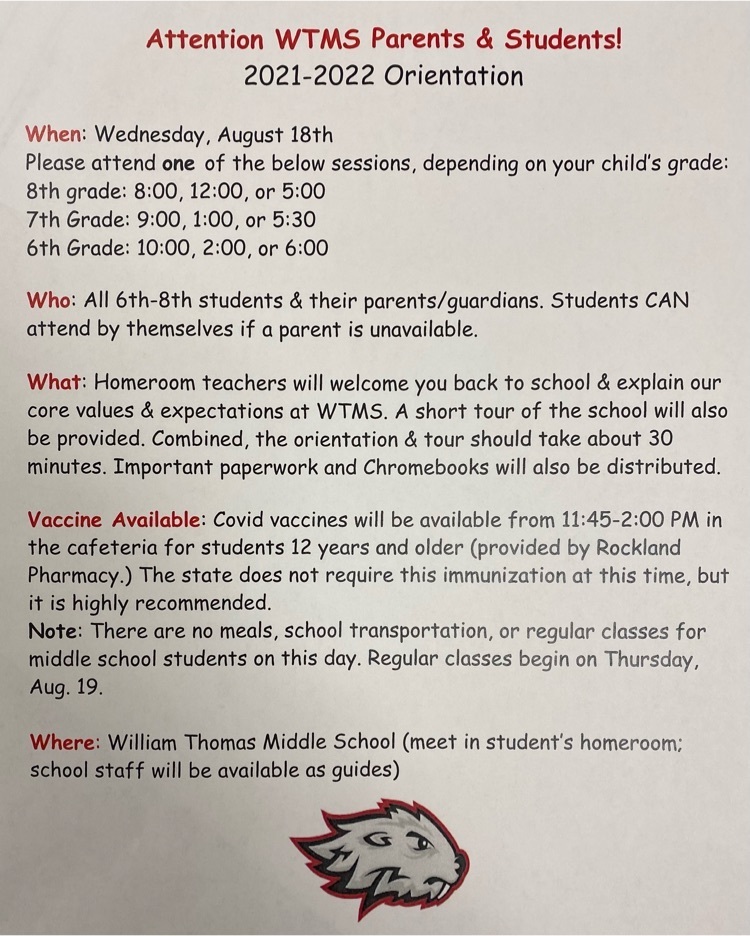 Letters from William Thomas Middle School regarding homeroom teachers and the first day of school were mailed out Thursday. There is a small typo that says all students are going into 8th grade, but the teacher listed IS the correct one. WTMS will be having an open house orientation on August 18th. Please plan to bring your child in at 10:00, 2:00, or 6:00 to meet their teacher and get a tour of the school. The first day of classes will be August 19th. El jueves se enviaron por correo cartas de la escuela secundaria William Thomas sobre los maestros de aula. Hay un pequeño error tipográfico que dice que todos los estudiantes van al octavo grado, pero el maestro en la lista ES el correcto. WTMS tendrá una orientación de puertas abiertas el 18 de agosto. Por favor planee traer a su hijo a las 10:00, 2:00 o 6:00 para conocer a su maestro y hacer un recorrido por la escuela. El primer día de clases será el 19 de agosto.

Nutritious School Meals Are Now Free for All Students. Parents, let your school help with meal prep! You can save time and stretch your household budget by participating in school meal programs. The US Department of Agriculture (USDA) is extending free meals to all students through June 2022, regardless of household income. This means your child can get free school breakfast and lunch each day. Participating helps both families and our school. More participation means more kids eating nutritious foods and more funding for our school's nutrition program. Free and Reduced Applications will not need to be completed for the 2021-2022 school year. All students will eat for Free. "This institution is an equal opportunity provider"